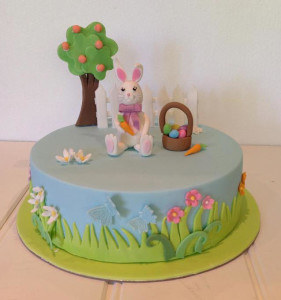 It's time for another Cake Chemistry class! Easter isn't far away so I thought this cute Easter Bunny cake would be a fun theme that incorporates a variety of decorating skills. Beginners welcome!
I will hold the lass the weekend before Easter on Sunday the 29th of March 2015. The cost is $190 for the day.
The cakes and ganache will be pre-made (baked by me of course). Each person will have the choice of a white chocolate or dark chocolate mud cake.
Timetable
Start 10am sharp
10am to 10:30am – Overview. Baking, ganache, fondant (colouring, adding tylose), decorations (cutters, foam bases, wiring, sugar glue)
10:30 to 11:30 – Trim, divide, fill, syrup and ganache cake
11:30 to 12:30 – Cover cake and cake board
12:30 to 1pm – Bubbly and nibbles
1pm to 5pm – Decorate! Make Easter bunny, eggs and basket flowers and butterflies. We will also make the tree and picket fence time permitting. Decorate side of cake.
What You Will Learn:
How to make chocolate ganache
How to cover a round cake board with fondant.
How to level, divide and fill the cake.
How to correctly prepare the cake for icing using a coat of chocolate ganache. This is key to creating a smooth, symmetrical cake.
How to cover your cake with fondant including how to smooth and create sharp edges.
How to make an Easter bunny figurine and flowers.
How to make and apply decorations to the side of your cake.
You will take home your beautifully decorated and boxed cake (value approx $200) as well as recipes and your leftover ganache and cake (to make truffles and cake pops)  🙂
Tea, coffee, bubbly and refreshments will be provided.  Please bring an apron and a large rolling pin if you have one.
As the class will be in our kitchen at home, I'll limit it to a maximum of six people. 
Monday
Tuesday
Wednesday
Thursday
Friday
Saturday
Sunday

1

2

3

4

5

6

7

8

9

10

11

12

13

14

15

16

17

18

19

20

21

22

23

24

25

26

27

28

29

30
See more of our classes here.