It's time for another Cake Chemistry Christmas cake decorating class! Yay!! There are only a three weeks to go until the big day and this cake would make the perfect centrepiece and dessert.  Apologies for taking so long to get organised for those who've been asking.
These fun Christmas themed cakes incorporate a variety of decorating skills. We will aim t complete both of the following cake designs:
Tall (extended tier) Rudolph. This cake is covered in milk chocolate ganache.
Short Rudolph. This is a fondant covered cake.
Beginners welcome!
The cakes and ganache will be pre-made (baked by me of course :)). Each person will have the choice of a white chocolate, dark chocolate or caramel mud cake.
When and where
Saturday the 16th of December
15 Dunoon Avenue, West Pymble.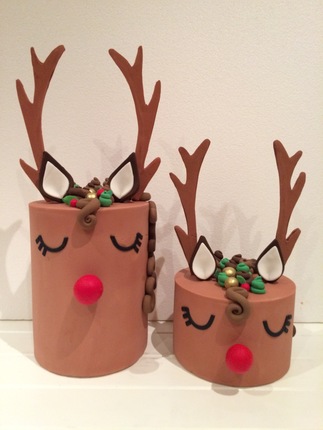 Price
$200
 Timetable
Start 10am
10am to 10:30am – Overview. Baking, ganache, fondant (colouring, adding tylose), decorations (cutters, foam bases, sugar glue)
10:30 to 11:30 – Trim, syrup and ganache cake
11:30 to 12:30 – Cover cake and cake board
12:30 to 1pm – Bubbly and nibbles (bubbly to flow for the rest of the afternoon!)
1pm to 5pm – Decorate!
What You Will Learn
How to make chocolate ganache
How to cover a round cake board with fondant.
How to level, divide and fill the cake.
How to correctly prepare the cake for icing using a coat of chocolate ganache. This is key to creating a smooth, symmetrical cake.
How to cover your cake with fondant including how to smooth and create sharp edges.
How to make Rudolph's features working with fondant and how to pipe a gorgeous reindeer mane with whipped ganache.
You will take home your beautifully decorated and boxed cake (value approx $350) as well as recipes and your leftover ganache and cake (to make truffles and cake pops)  🙂
Tea, coffee, bubbly and refreshments will be provided.  Please bring an apron.
As the class will be in our kitchen at home, I'll limit it to a maximum of six people. 
Monday
Tuesday
Wednesday
Thursday
Friday
Saturday
Sunday

1

2

3

4

5

6

7

8

9

10

11

12

13

14

15

16

17

18

19

20

21

22

23

24

25

26

27

28
See more of our classes here.